Member
Join Date: Apr 2009
Posts: 74
Mentioned: 0 Post(s)
Tagged: 0 Thread(s)
Quoted: 0 Post(s)
2008 Teryx part out maybe ?
---
Well, I just got done with the insurance company dealing with my crash I had a few months ago.....some may remember it.

Ive bought it back from the insurance company as they called it totalled due to a front frame rail being pushed back and also the frame was bent slightly around the floorboard area. Kawasaki does NOT sell a frame so they totalled it out.

Im debating if I should just part it out as the insurance didnt cover the whole amount for the loan, and I cant justify having something in my garage that I cant use while I finish off the payments for the money I still owe on it.

The only parts that are bad, the frame....the cage....the radiator....the dash(where my knee went through it)..and the front bumper.

Really the frame could be fixed (or sold) if someone wanted to have a decent frame around that needs a little work.

The bike had about 38 hours on it when I had the accident and the engine had just got broke in with the oil swapped the weekend before it happened.

Front diff, and all plastic are in great shape also.....pretty much everything but what I listed up top here is in like new condition. What a shame......


So....my question is.....what are some of these parts worth and is there a market for spare parts and replacement parts for these teryx's yet ? I know theve only been in production a few years....so most of them out there should still be in good shape.....but I need to sell this stuff to get some money back in my pocket. And I figure parting it out would be the way to go for most bucks for my parts. Ill start with the engine, front and rear diffs and axles.....all of wich are in perfect shape and almost new with 30 something hours on them.

you could look up in here the post where I crashed it a while back. So, any opinions are welcome !
Senior Member
Join Date: Jul 2008
Location: Alberta, Canada
Posts: 516
Mentioned: 0 Post(s)
Tagged: 0 Thread(s)
Quoted: 0 Post(s)
Where are you located and shoot me a PM for how much you want for the engine, could be interested.
---
27" XTR's on ITP SS212 Chrome 14's
Dynatek N.P.
FST Standard Bore
Dalton Clutch Kit w/O.Drive
Muzzy's - ceramic coated
SDR Deluxe Cage w/roof
SDR Front Bumper w/winch
Twisted Stitch Vortex Front Heated Seats
Twisted Stitch Vortex Rear Heated Bench
Beautiful Lowered Seat Bases by SDR - Thanks!
Crow 5-point harnesses (x5)
Member
Join Date: Apr 2009
Posts: 74
Mentioned: 0 Post(s)
Tagged: 0 Thread(s)
Quoted: 0 Post(s)
Im in Western KY for those who are unterested.
Junior Member
Join Date: Dec 2008
Posts: 5
Mentioned: 0 Post(s)
Tagged: 0 Thread(s)
Quoted: 0 Post(s)
I am in Easter KY an would be interrested
Member
Join Date: Apr 2009
Posts: 74
Mentioned: 0 Post(s)
Tagged: 0 Thread(s)
Quoted: 0 Post(s)
OK Scott, I used to ride out that way all the time before I had my crash....sigh....
What kind of stuff are you looking for ?
Ive got the front end tore down right now....this is what I have out....
1. Front diff
2. Axles
3. A-arms with ball joints
4. front shocks
5. front driveshaft and U-joints
6. radioator fan
7. Brake calipers
8. brake lines
9. Rack and pinion unit
10. Tie rods
11. Fuel pump
12. 2 coils
13. fuel tank
14. ignition switch and 2 keys
15. Choke cables
16. 4x4 actuation cable
17. 4x4 actuator
18. front camo plastic
19. front headlamp assemblies
20. steering column
21. steering wheel
22. voltage regulator
23. master cylinder
24. Stock CPU
25. Starter relay
26. air box
27. front bumper plastic (was off when I crashed, in new condition)
28. Seat belt assemblies (all parts included)
There may be a few more parts I have removed, Just cant think of them yet.
Im going to sell the engine with everything included....Carbs, plenum, starter, belt drive cover, all sensors and everything else thats connected. Would be a direct bolt in for someone if they need an almost new engine. Ive left it in the frame for now in case someone would like to hear it run, but they better speak up quick, because once I pull it in the next week.....I wont put it back in to hear it run...
If I cant pull a good price for it on a few forums here, Ill put it on Ebay with a reserve price set accordingly.
Make offers on some of this stuff if you are interested....
I still have some things to pull like :
29. Complete bed assembly
30. rear diff
31. rear axles
32. rear driveshaft
33. remaining electronics
34. wiring harness
and much more......
Ive also got a phone number you can call me at, PM me for that info.
The frame where the A-arms connect is basically the only area that received damage. The A-arms are straight as well as the shocks, axles, rack and pinion and front diff. The front bumper got into the radiator a little to ding it some and it held pressure and water as I drove it back to the truck, But I dont think I could sell it....unless someone wanted to take a chance on it. I know the fan is unhurt.....
Buyer pays shipping and packing costs, I dont think I have alot of boxes around here to put all of this stuff in. All items will be shipped from Henderson KY 42420. If you would rather pick-up in person, that would be great !
Im working on getting more pictures up.....Ill start with pics of the engine.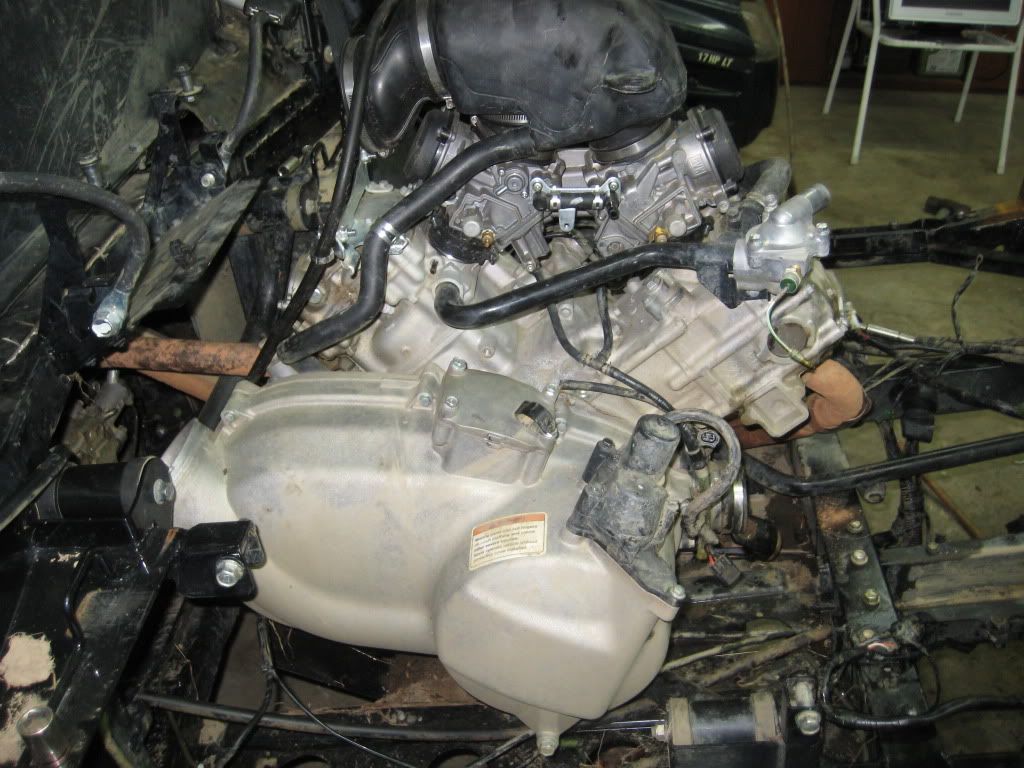 Heres a few pics of the frame damage.....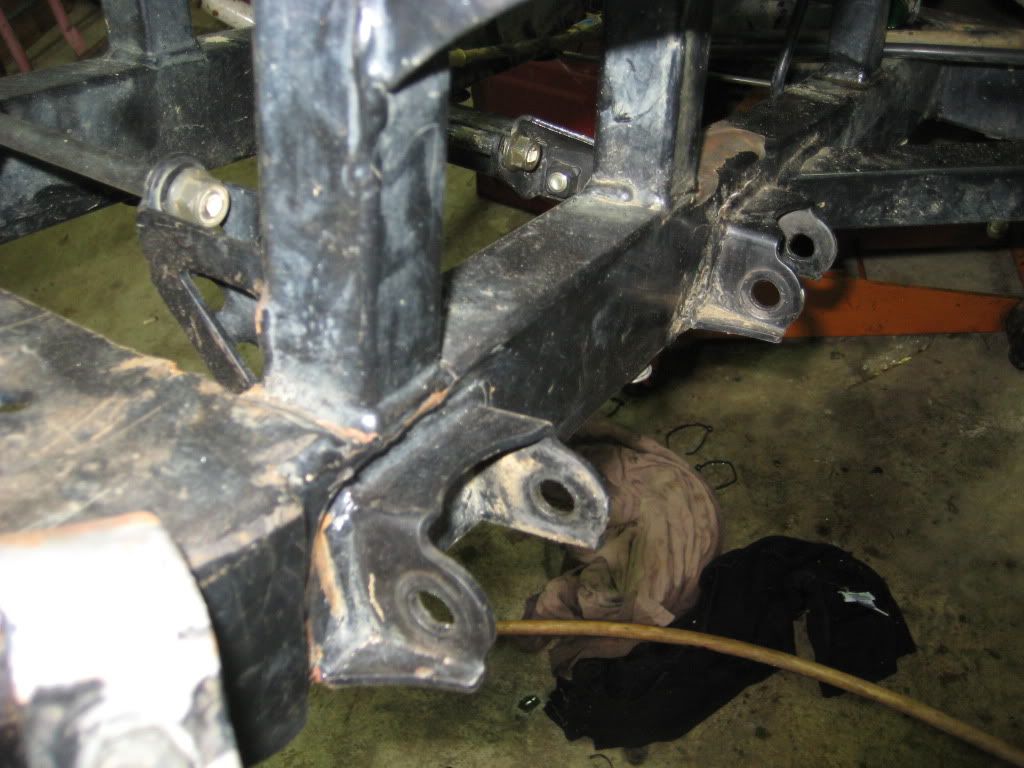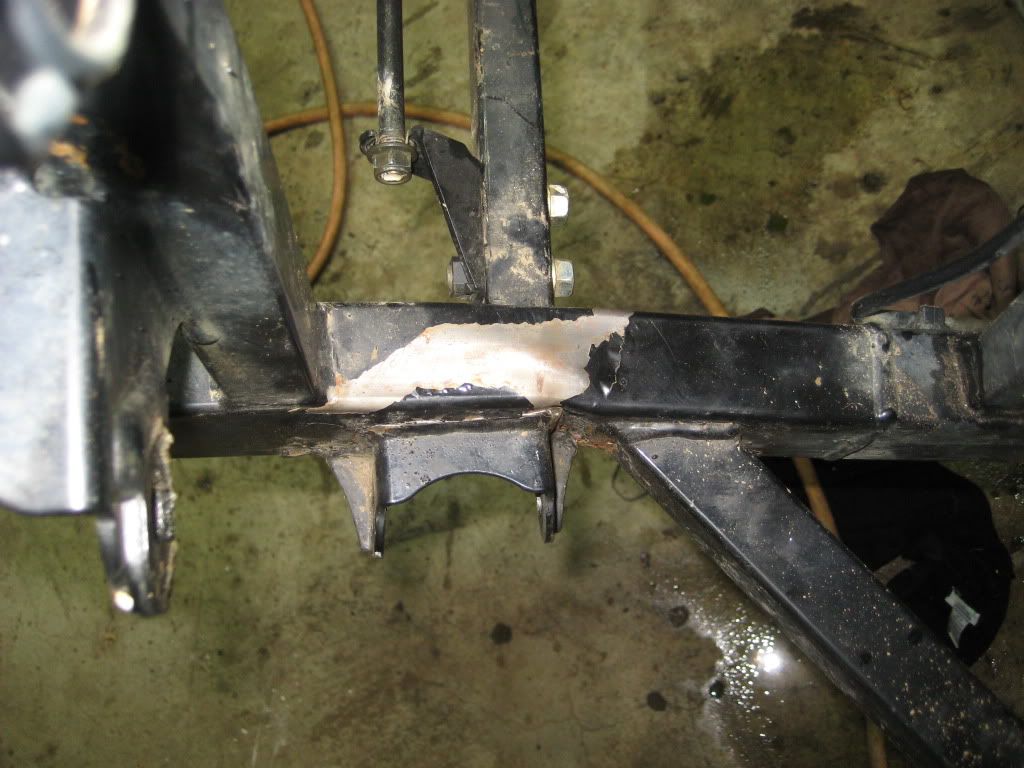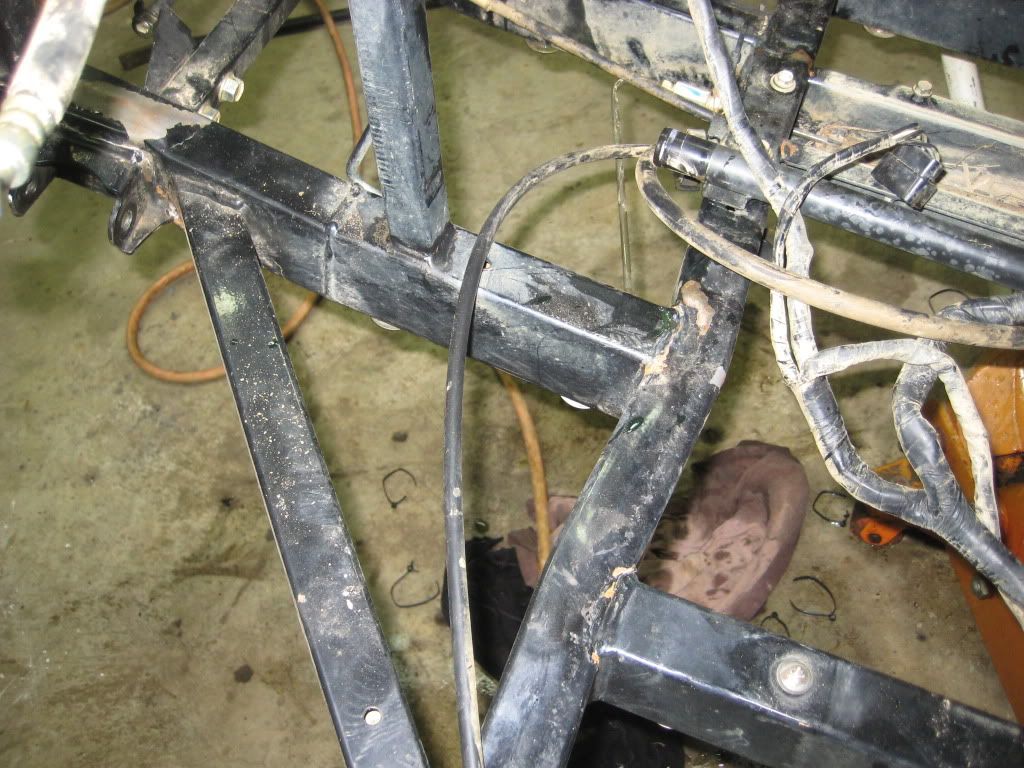 ---
Last edited by CAVHOOAH; 09-17-2009 at

03:54 PM

.
Join Date: Sep 2008
Posts: 2
Mentioned: 0 Post(s)
Tagged: 0 Thread(s)
Quoted: 0 Post(s)
i would be interested in your right rear axle
please contact me
i am new and i don't exactly know how this works so i guess my email is on hear or i'll just check this forum tommorrow
thanks
Member
Join Date: Apr 2009
Posts: 74
Mentioned: 0 Post(s)
Tagged: 0 Thread(s)
Quoted: 0 Post(s)
Hi ryan, More than likely Ill try to sell tha axles as a set. I think Babbetts has them for around 340 per axle if that helps.
Senior Member
Join Date: Aug 2009
Location: Branson Missouri
Posts: 347
Mentioned: 0 Post(s)
Tagged: 0 Thread(s)
Quoted: 0 Post(s)
I'd like to have the stock airbox and its hardware please.
Member
Join Date: Aug 2009
Posts: 76
Mentioned: 0 Post(s)
Tagged: 0 Thread(s)
Quoted: 0 Post(s)
Id be interested in the tie rods as spares.
Senior Member
Join Date: Nov 2008
Posts: 780
Mentioned: 0 Post(s)
Tagged: 0 Thread(s)
Quoted: 0 Post(s)
I would be interested in the headlights. I actually just want the lense assembly, not the bulbs and the outer housing. pm me a price. I am at zip: 37803

also, do you have the little plastic inserts that go in the fenders where the dump bed handles would come thru?
---
2008 Teryx
Something to Tinker with
PM me if you are looking for a Service Manual.